Variety Nozzle available

Different hand-held welding heads can be selected for various needs such as external welding, internal welding, right angle welding, narrow edge welding, large spot welding and so on.
1. Wire feed nozzle 2. 45 degree nozzle 3. Wire feed nozzle 4. Metal cutting head

Large screen touch panel

The user-friendly interface can adjust the power/frequency quickly by touching it. No complicated operation steps, you can get started in a short time.

High-quality aluminum handle

It is in line with the ergonomics of hand grip during vertical work, weighing only 0.8KG, reducing occupational injuries caused by long-term work.

Ruler scale welding nozzle

In order to maintain the same welding quality, and to avoid operator errors that may lead to poor welding strength. Cause welding quality defects and increase unnecessary secondary processing. The entire series of this welding machine is equipped with scaled welding heads, and the quality control personnel can formulate welding conditions based on it to reduce the occurrence of defects.

Metal push handle

Cherish and cherish the equipment, this model has a thicker hand-push handle, which not only makes it more convenient to move, but also reduces the dirt or oil stains on the gloves when the on-site personnel move the equipment directly to touch the equipment itself, keeping a clean working environment also allows colleagues We are in a good mood.

Operation console security configuration

The console is equipped with a safety emergency stop switch, and the whole machine can be powered off by pressing the emergency stop switch in any emergency. Equipped with a key control lock to prevent unauthorized operation by unfamiliar personnel from causing equipment damage or dangerous accidents

Internal projection infrared positioning

Users can know the joints of laser welding more clearly, and the welding quality and efficiency are more accurate

World-renowned laser design manufacturing

Brands with high stability/low maintenance/high market share, after-sales maintenance is guaranteed
For the actual processing frequency, we provide multi-brand lasers to provide options, allowing you to purchase the machine at the most economical price

Optical fiber cable storage

The fiber optic cable is very fragile, although our company has multiple layers of protection on the outer layer of the cable
However, in the construction environment, in order to avoid the cables from being crushed by heavy objects, a space for the cables is specially configured. Long cables can be wound around the top of the device.

Automatic wire feeder II

With automatic wire feeder, filler welding can be carried out to meet the needs of larger welding seams or stronger strength.
Wire size: 0.8mm / 1mm / 1.2mm
Wire: aluminum wire, steel wire, brass wire (applicable to 1500W)
Lighter than the first generation
Swing welding

For workpieces with large gaps, the swing welding mode can be selected to achieve good welding results without wire filling

Filler wire welding mode

For larger gaps and strength requirements, the advantages of filler wire welding are closer to traditional welding methods, and low-tech operators can quickly get started
Laser power

1000W、1500W(Optional)

Fiber length

10/15m

Laser wavelength

1070nm

Spot diameter

1.8mm

Targeting

infrared

Cooling system

High-wattage dedicated built-in water chiller, dual-circulation system,




heat exchange titanium tube, over-temperature alarm, flow protection, water level protection.

Ambient temperature

15-35 ℃

environment humidity

< 70 No condensation

Operating Voltage

220V 60HZ 20A

Maximum input power

3.5KW
| | |
| --- | --- |
| Welding speed | 0-120mm/s |
| Welding thickness | 0.5-3mm |
| Welding gap requirements | < 0.5mm |
| Body Size | 1050*370*1200mm |
| Body Weight | 230kg |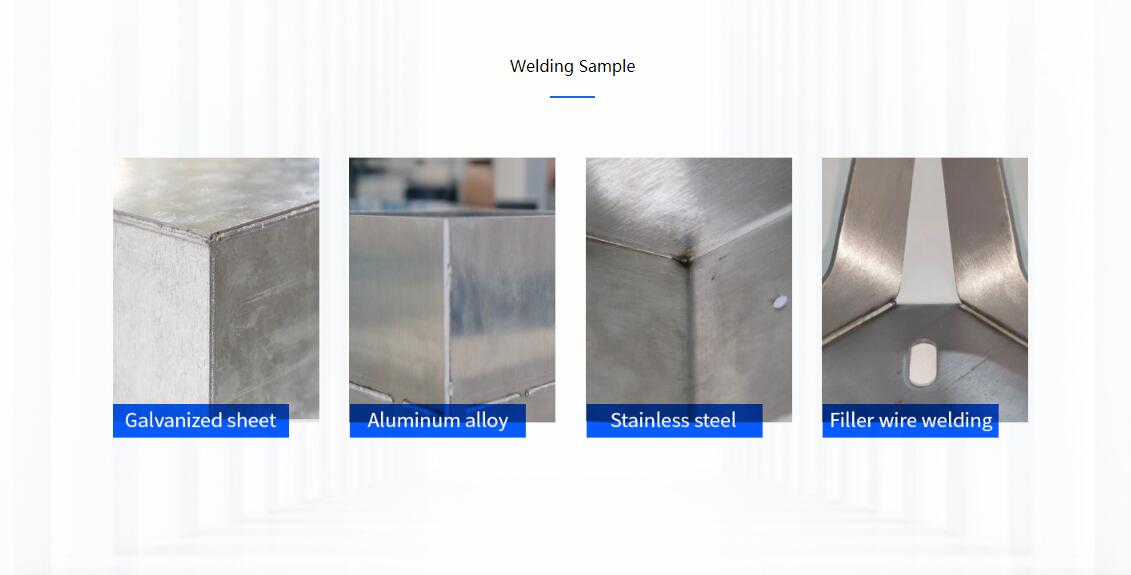 Advantages:
Handheld Laser Welding Machine
Quotation
●Can be matched with swing head to weld gaps with no fillers, flexible, enabling outdoor welding.
●Fast welding speed, 2~10 times faster than traditional welding.
●The welding seam smooth and beautiful, large depth, small taper, don't need polish, save time.
●No deformation or welding scar, firm welding of the workpiece.
●Laser welding has less consumables, low energy consumption and long service life.
●Safer, easy operation and more environmentally friendly.
Principle:
BKJ-H1000 laser welding machine is a welding equipment which couples the high energy laser beams into the optical
fiber, after long-distance transmission, then transformed into parallel lights through collimating mirror to be focused on
the work piece to implement the welding. It's more flexible to implement flexible transmission of non-contact welding
for those difficult to weld site. The laser beam can realize the spectrum separation on time and energy, it can do multi-
beam processing at the same time, it provides the conditions for high precise welding.
Shandong Baokun Machinery Equipment Co.,Ltd
No20, Jinboda Industrial Park,Qushan Road ,Weifang City, Shandong ,China
Website:www.goodcncmachine.com What's app:+8618553681768
"Your Choice,Our Promise "